Welcome to Tulips in the Wild
Join Dutch bulb expert Eric Breed in this rare peek at species tulips in their original extreme native habitats. Tulips in the Wild features photography shot over two decades by five adventurous Dutch friends and tulip hunters on expeditions to the often remote regions where tulips originated. Their varied travels have spanned the barren steppes and rugged peaks of some of the world's more difficult terrain in Kazakhstan, Kyrgyzstan, Uzbekistan, Tajikistan and Turkmenistan. On other trips, wild tulips awaited in Afghanistan, Iran, Turkey, Crete, Greece, Italy, Switzerland and Algeria.
Eric's slideshow text offers detailed site notes, botanical descriptions and appealing anecdotes. An interactive map provides a link to each tulip image based on where it was photographed.
Here presented in slideshow format, Tulips in the Wild by Eric Breed was first issued in book format by co-publishers Colorblends.com and The Amsterdam Tulip Museum. It is still available to museum visitors while supplies last.


On the Hunt with Notebooks and Cameras
Tulips are familiar to millions worldwide, but very few people have had the opportunity to see them growing in their original, natural habitat. That's because tulips are native to some of the most remote places on earth, on hard-to-reach mountain ridges and barren steppes.
About a dozen years ago, I and a few friends and colleagues, most of them in the Dutch bulb industry, began to travel to the lands where tulips grow wild. We don't often go as a complete group—our schedules rarely allow that—but between us we have covered a lot of ground over the years. This book is a small slice of what we have seen.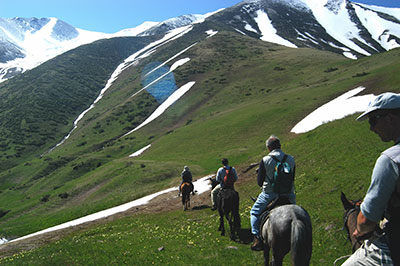 There is a good chance that you will fall in love with one or more of these wild tulips and want to have them in your garden. A few—Tulipa clusiana and T. sylvestris, for example—are grown commercially in the Netherlands, but most are found only in the gardens of collectors, if they exist in cultivation at all. A tulip that grows and blooms happily in rock crevices on the side of a cold, dry mountain may languish in garden soil in a more temperate climate. Ironic as it may seem, many of these rugged beauties are easily killed with kindness.

- Eric Breed

To the Interactive Map To the Slideshow


Copyright Note
The photographs on this site are used by permission of the photographers. It's not difficult to imagine the time, effort and expense it took to obtain these images. Please note that all rights to these photos are reserved, for all uses, by their copyright holders. For inquiries about image usage, especially editorial image usage by the media, please contact us at press[at]colorblends[dot]com.

For Press Information about the site and the project please contact press[at]colorblends[dot]com.